Our Horses
These are the real stars of our show! Almost all of them have been donated to us and they are our most-used teaching tool. James 1:22 (ESV) tells us to "be doers of the word, and not hearers only, deceiving yourselves." The instructor can't ride a student's horse for them. That student has to hear the instructor's horsemanship truths and put them into practice on that horse. By God's grace, our students will have ears to hear God's truth and faith to put it into practice in all areas of their lives.
Interested in helping support our horses? Click on Contact above or visit our Donate page (which will redirect you to https://wvr.org/online-giving/). You can also find our Wish List if you click on the Horse Sponsorship tab above for more specific needs.
We've seen our share of horses through the years and they've all taught us something. We have a much better idea of what horses serve our program, though true to form, sometimes they surprise us. If you're interested in donating your horse and would like to see if it might be a fit for our program, click here or Contact above to contact Mr. Ryan.
Our Newest Horse: Seven
Full name: Seven S Quanah
Birthday: May 2, 2002
Seven is a registered American Quarter Horse, bred on the historic Stuart Ranch in Oklahoma. He is well-trained and comes to us with lots of life experience. So far, he has fit right in and we're excited about his career with us!
Haddie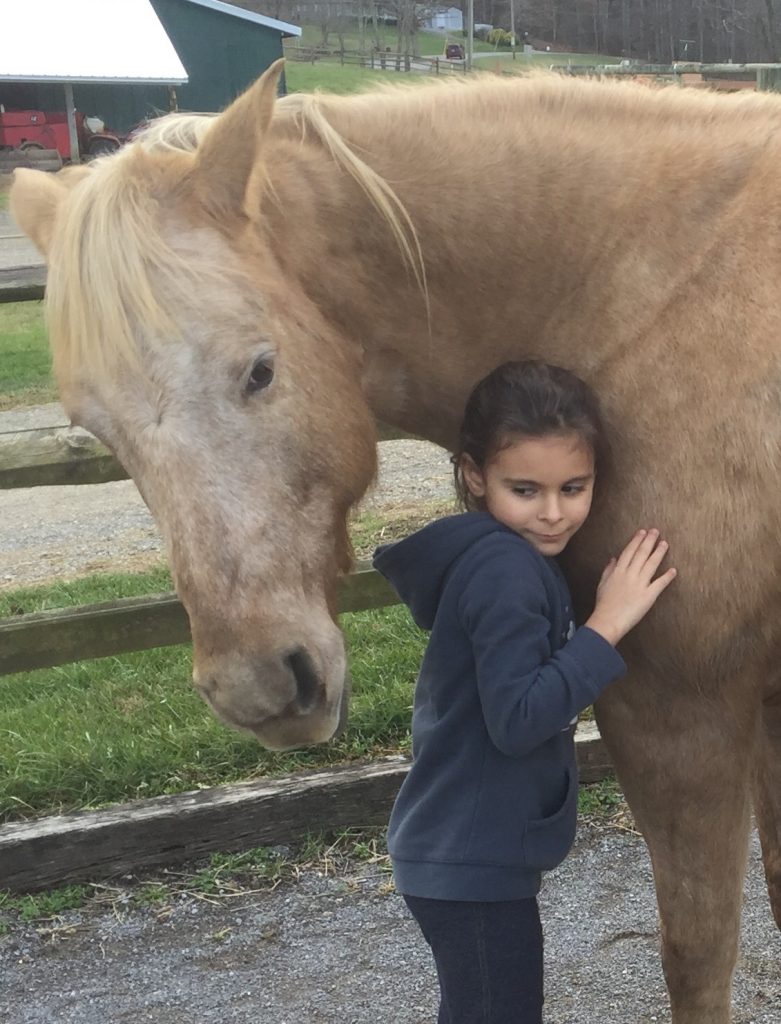 Full Name: Hadassah
Birthday: April 22, 2011
Born at the Ranch, Haddie is Mr. Ryan's horse. Mary, Haddie's mother, was one of 30+ horses that our farrier rescued. He asked if we would be interested in housing one of the broodmares until she foaled and weaned, with the possibility of us keeping the foal. While Wears Valley Ranch seeks horses that are already trained, Mr. Ryan was willing to take on the responsibility and expense associated with raising a foal. He credits Haddie with being one of the things that has progressed his horsemanship the most. Many of our students have fallen in love with her and look forward to being able to ride her in the future. Hadassah received her name because, like Queen Esther who she is named after (Esther 2:7), she seemed to come to her role in life for "such a time as this." (Esther 4:14)
Hot Rod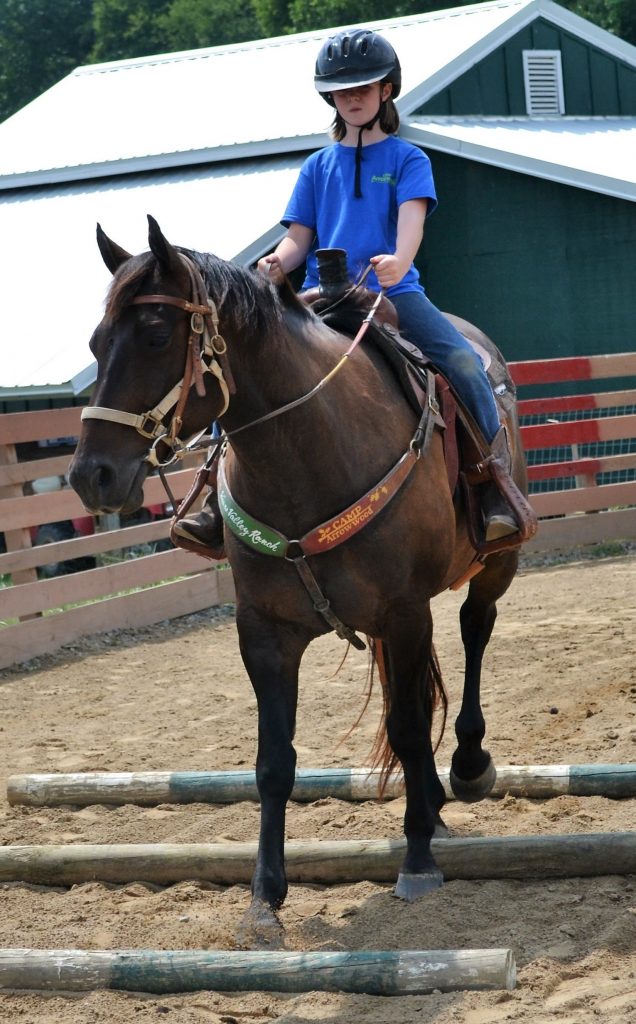 Full Name: Holidocs Hot Rod
Birthday: March 23, 2003
Hot Rod is a registered American Quarter Horse Horse. Bred and started as a reining horse, he spent a number of years doing mostly trail rides. He's everything you would expect from a Quarter Horse–smooth moving and versatile–which is good because we ask him to do just about everything from herding cows to jumping and even recently starting him in training as a vaulting horse.
Lucy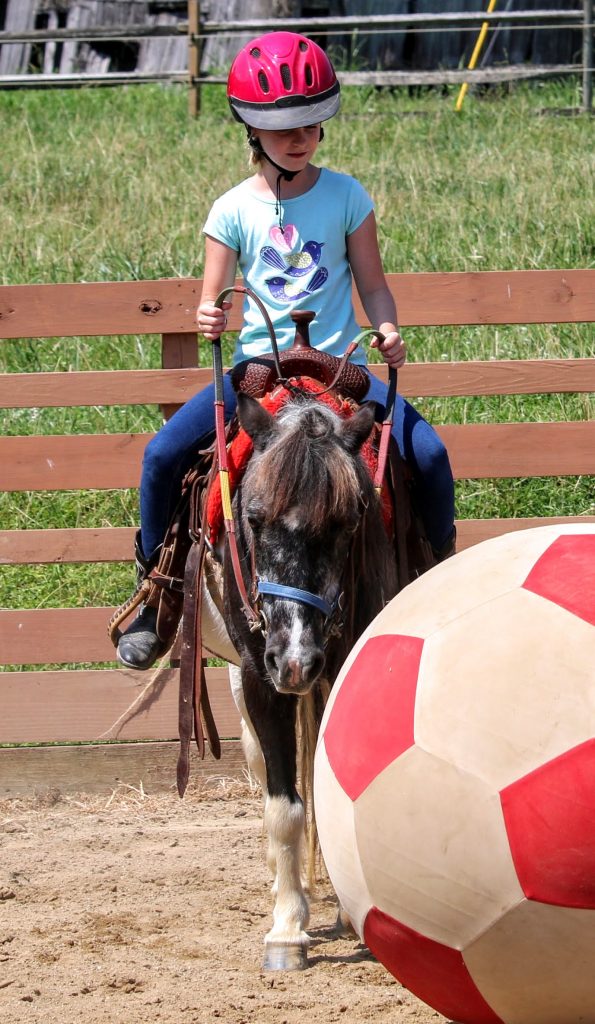 Full Name: Lucy
Birthday: 1982, maybe…she's old for sure!
Mr. Ryan originally bought Lucy for his own young children but the Ranch students, especially those 8 and under, quickly fell in love with her. Barely taller than our 40″ horse soccer ball, what she lacks in size she has in heart. Courageous enough to even push around the calves that are bigger than her, she is an amazing teacher for our youngest ones. Few labrador retrievers will follow a student as well as Lucy follows when one of our students is leading her around. Mr. Ryan says, "She's the best $400 I ever spent on horses!" We're glad he was willing to share her with us. Her fan club agrees!
Pepper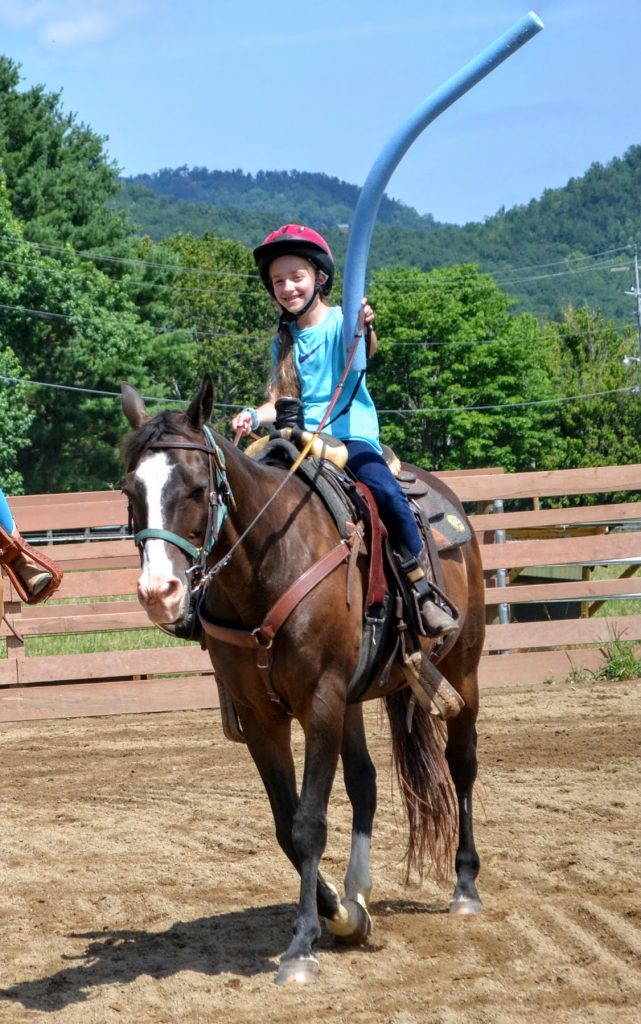 Full Name: Pepper
Birthday: 1999, we think
Pepper was given to us by long time volunteers who lead multiple trips to the Ranch each year. But don't let his name fool you…Pepper isn't too spicy. He has just the right amount of energy for the occasion! He can elevate his energy to go over a jump or slow to a snail's pace to make sure that beginner has fun playing noodle tag. We're grateful to have him in our herd!
Rocky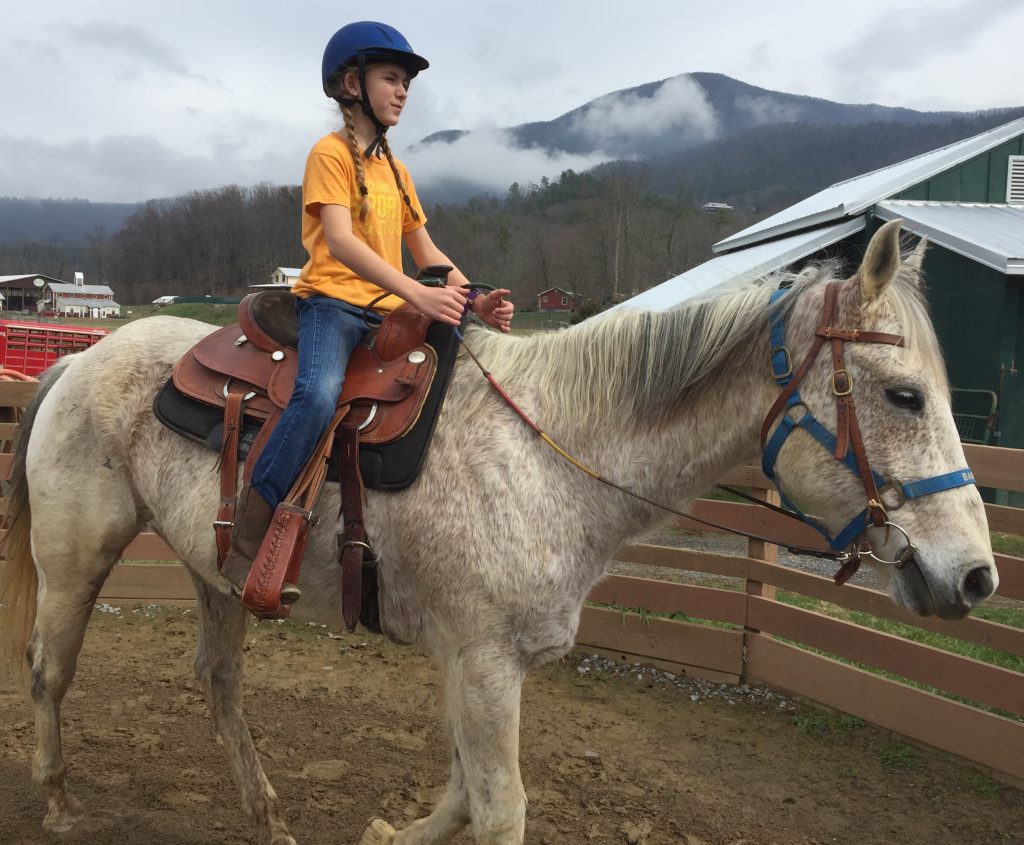 Full name: Choctaw Spare Change
Birthday: January 14, 1999
Rocky is a registered American Quarter Horse. He comes to us with an well-rounded resume in both western and english. He is very sensitive to his rider, capable of calmly packing around a new beginner or raising his energy for our most advanced riders. He is a fantastic mirror for his rider.
Tazz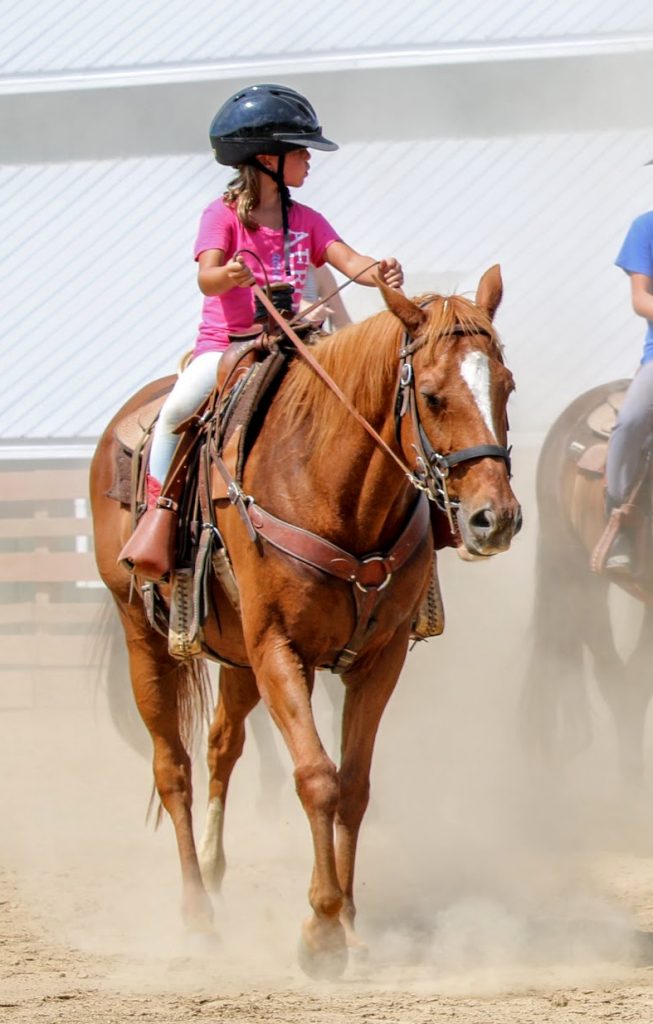 Full Name: Bashfuel
Birthday: May 14, 1993
Tazz is a registered Appendix Quarter Horse, which means he's half QH and half Thoroughbred. His story parallels Bob's story in a number of ways. Tazz came to us because his rider went off to college and Tazz still had years of teaching left in him. He grew up winning ribbons at the horse shows. Tazz and Bob even used to be at the same barn! We're thankful that Tazz came out of retirement to keep himself and all of us young and going strong.
Triumph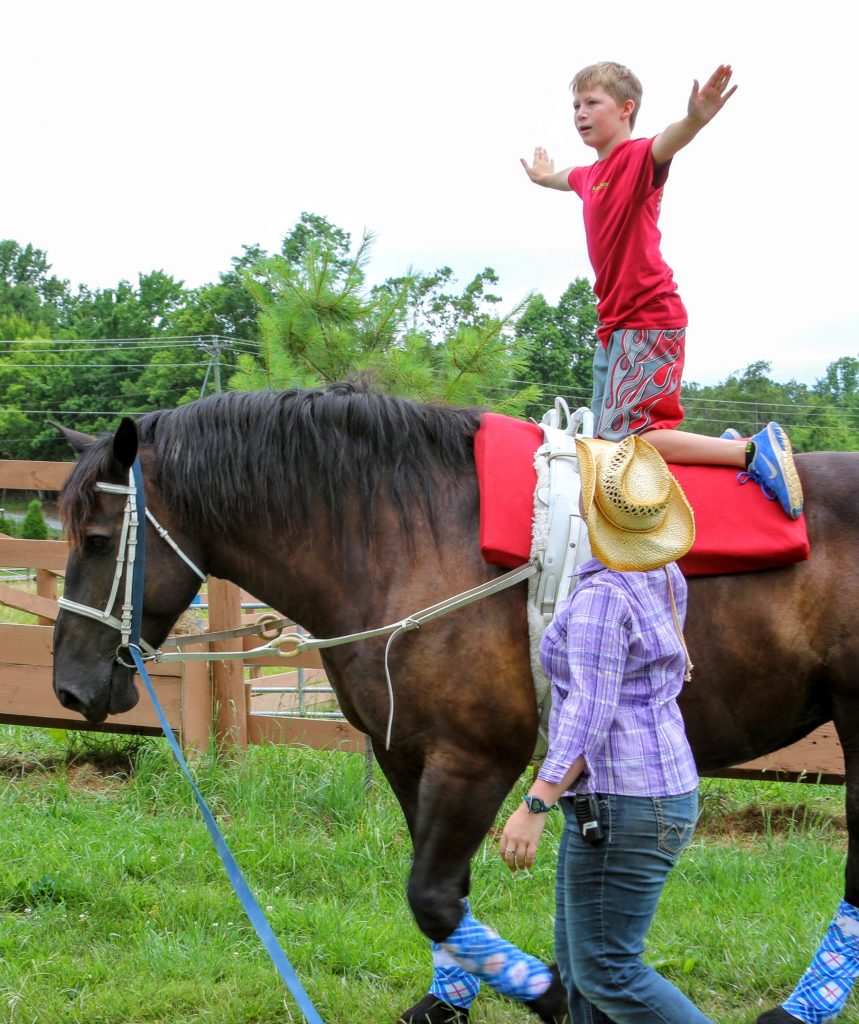 Full Name: DR18
Birthday: May 4, 2003
What kind of name is DR18?! Triumph was born on a PMU farm in Canada–think like how a dairy farm gets milk from cows and doesn't want the calves, but these farms want to get pregnant mare urine (PMU) and don't want the foals. She was just a number until she came to us. Triumph is probably our smartest horse, and she uses her smarts figure out all sorts of ways to get out of working too hard. A jack of all trades, we can ride her under saddle, hitch her up and go for a hay ride, or put the surcingle on her and do some vaulting. We're grateful for her and all of her personality!
Did you know…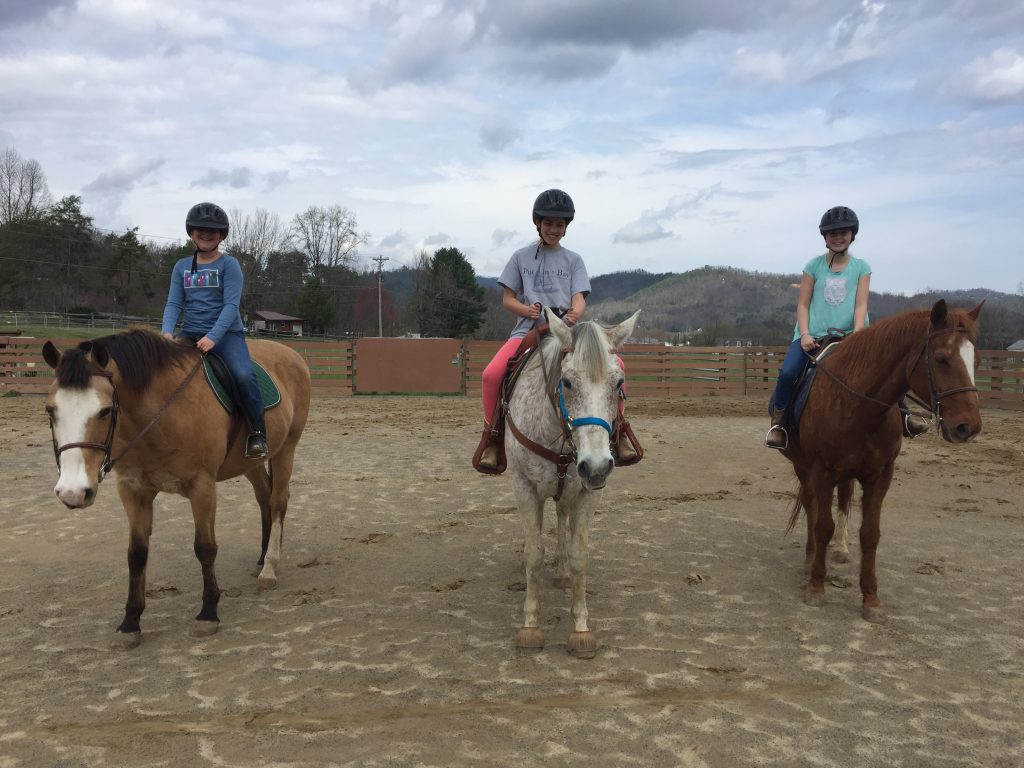 …that we've had four horses (BOB, Rocky, Seven, and Tazz) who all spent time during their lives at the same lesson barn nearby in Tennessee? Though they all came to us in their teens or later, they still had many productive years left as lesson horses. Many people think that they'll get a young horse for their young child to ride and that they'll both teach each other. Yet horse people often recite the old adage, "Green on green makes black and blue." In other words, young horse + young rider = recipe for injury to one or both. Horses that are old or older with a variety of experiences, with a variety of skills, that have been exposed to and can handle a variety of stimuli, often make the best horses for young or inexperienced riders to learn. We're happy to have some of them in our program!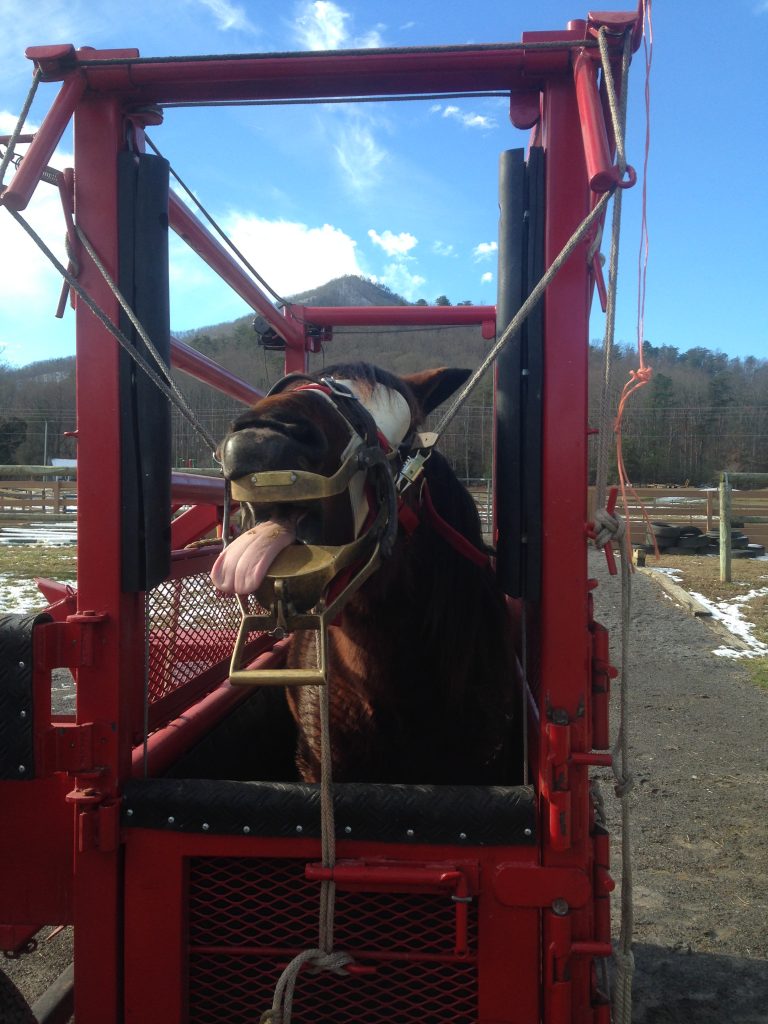 …that you tell a horse's age by it's teeth? So for some of our horses when
we say we think we know when their birthday is, that means we don't know exactly but based on the appearance of their teeth we can make an educated guess. A horse's teeth are always growing in and always grinding down which is unlike our teeth which grow in and then are done growing. Proper dental care is very important for horses, and some of our older horses have special dental issues. Our veterinarian performs yearly dental exams and uses special dental stocks to help keep the horses calm and safe. Here is a picture of a horse getting ready to have his teeth checked.
Find out more about Wears Valley Ranch @ wvr.org